Events Digest Of March – May 2021
May 31, 2021
The spring months, despite the quarantine, proved fruitful at conferences, webinars, surveys and creative developments that project members joined or created themselves.
Thanks to partners from Coimbra University, the project team joined the Conference "Hybrid Threats in the context of European Security", which was held on 18.05.2021 promoted in the framework of the Portuguese Presidency of the EU at the initiative of the Ministry of Foreign Affairs together with experts from the National Defense Institute, HybridCoe (FI) and security chief of EEAS.
Among the main tools for countering hybrid threats the experts highlight public awareness, technical skills and digital education. Ensuring the development of these tools is an urgent task of the academic environment in a long-term comprehensive multidisciplinary strategy of interaction between society and the state in order to build the sustainable ecosystem of democratic societies.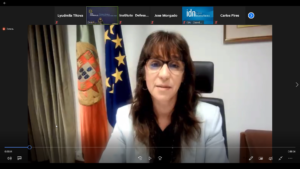 https://www.facebook.com/groups/726903504510063/permalink/1040436386490105/
On April 20, 2021, the team of DPSU (Horlivka Institute of Foreign Languages) held the Webinar "Human under conditions of hybrid threats" for academic staff. The purpose of this event is to highlight the first results of realisation of the project "Academic Response to Hybrid Threats" which is implemented under the Erasmus+ project. The participants got acquainted with the glossary of hybrid threats, exercised to develop media literacy, learned to recognize fakes and counter manipulation. DPSU Webinar_Human under HT
On April 16, 2021, the representatives of the NAMSCA (NACAM) project team presented the main goals, tasks and results of the project WARN «Academic Response to Hybrid Threats» (610133-EPP-1-2019-1-FI-EPPKA2-CBHE-JP) within the International scientific and practical conference «Development of Artistic and Creative Personality by Means of Various Types of Arts».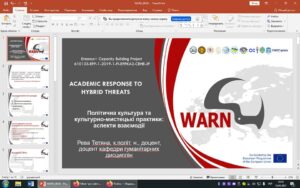 https://www.facebook.com/groups/726903504510063/permalink/1022901894910221/
On April 9, 2021, Olga Kopieevska, Professor in Culturology at NMSCA hold the training "Cross-cultural collaborations in library practice", organized by the Ukrainian Library Association. After the training an interesting discussion about the project prospects, the expectations of stakeholders was launched. 55 representatives of Ukrainians libraries are unanimous on the importance of the issues raised and are ready to cooperate pro-actively. https://www.facebook.com/groups/726903504510063/permalink/1017184582148619/
Creative practices for students and under the authorship of students are created to understand hybrid challenges, overcoming threats, through the eyes of future culturologists. Ingenious author's game practices were created and tested by students of University of Culture (is not project partner).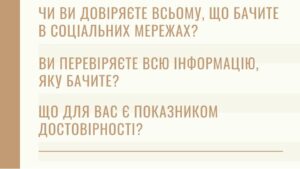 https://www.facebook.com/groups/726903504510063/permalink/1031697457363998/
To continue the series of student works on "Cultural practices as a challenge for hybrid threats" we present an interesting game practice for children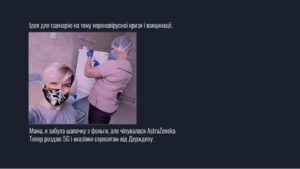 https://www.facebook.com/groups/726903504510063/permalink/1015047239029020/
On March 13, 2021, National Project Coordinator Dr. Svitlana Gryshko opened the Educational marathon of NURE promoting study programmes to be modernised within project. NURE Educational Marathon