Kick-off meeting
Dec 6, 2019
The kick-off meeting of project WARNS financed by EC Erasmus+ (2019-2022) was hold on 5-6 December of 2019. Consortium members met at National Academy of Managerial Staff of Culture and Art, Kyiv, to discuss the plans of project realization and working rules and policies within the project.
https://nakkkim.edu.ua/novini/1287-the-kick-off-meeting-of-warn-community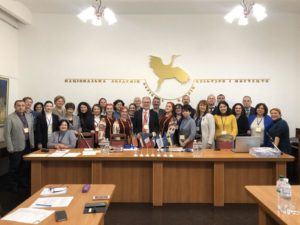 The kick-off meeting was continuing for the second day at Ministry of Education and Science of Ukraine that indicates the importance of the project results for the security situation in the country.
https://mon.gov.ua/ua/news/do-2022-roku-mon-pracyuvatime-nad-proyektom-iz-protidiyi-gibridnim-zagrozam-u-mezhah-programi-yes-erazmus?fbclid=IwAR2Ifd7OzI-kvWhVok_rTn0xei1BY9M5obENezO1c7cKDb4_wYBCpJ-xqQ8