Development of dissemination and sustainability plans (WP5)
The first draft of the dissemination plan was presented at the kick-off meeting on 4-5 Dec 2019. It became possible because the leader of the dissemination activities – partner NAMSCA obtained the relevant experience in developing the disseminating campaign within previous joint project Tempus TRUST # 516935 (2011 – 2015). Consortium members discussed the offered strategy and expressed their suggestions which were considered in the next version of the dissemination plan presented during Workshop on WP1 results in February 2020.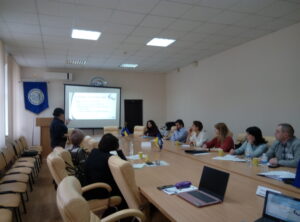 Presented Dissemination Plan was accepted at the consortium meeting. Additionally, partners were entrusted to elaborate the details of institutional level to the general Dissemination Plan by June of 2020 in order to update the plan with envisaged events and activities of each consortium partner by September of 2020.
As important and effective means of dissemination the project website as well as project accounts in social media Facebook, Twitter and Instagram (https://www.facebook.com/groups/726903504510063,  https://twitter.com/ErasmusWarn, https://www.instagram.com/warn_erasmus_project/) have been launched.
Despite the major dissemination activities take place during the 2nd and 3 d project years NAMSCA under supporting MESU and NEO started the early dissemination on the web and TV media. Thus, information about the first project events and starting the development of the study programmes aim at strengthening civic resilience to hybrid threats have been widely spread.
The Plan of disseminating the project results is uploaded to the WARN repository: (Path: Dissemination).
Developing the Sustainability Plan headed by UCU which is experienced in the previous projects not less than NAMSCA. Both strategies sustainability and disseminating have been coordinated. The core of the Sustainability Plan describes the long-term objectives, impact and perspectives of the adapted programs; planned activities to reach them including communication plan, marketing plan (promotional campaigns and advertising), the sustainable partnerships, etc.; and verify that planned activities lead to the attainability of the objectives. One of the pillars of the Sustainability Plan is establishing the WARN network and signing the corresponding agreement aims at long-term cross disciplinary cooperation with educational and research purposes.
The Sustainability Plan is uploaded to the WARN repository (Path: Sustainability).